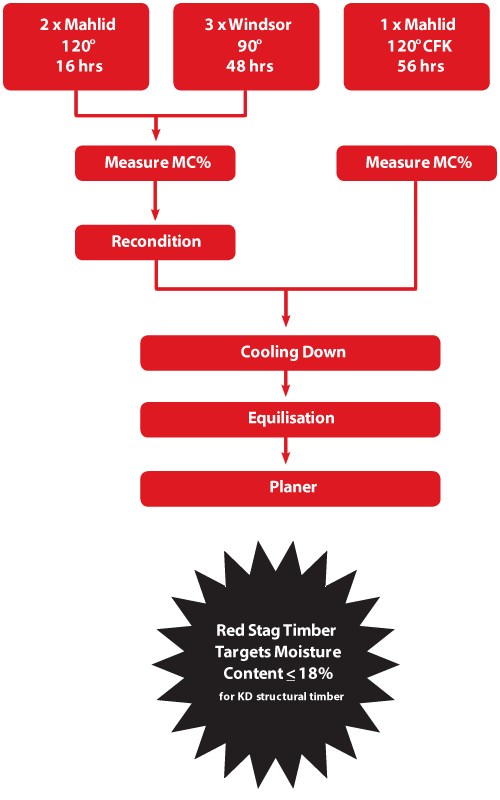 MAHILD
High Temperature kilns.
150 m³ chambers drying in the 120° C range.
Quick turnaround for volume drying.
85,000 m³ /pa /chamber.
WINDSOR
ACT/ High Temperature kilns.
100 m³ chambers drying in the 90° C range.
Used for appearance grades / wides and treated timber.
35,000 m³/pa/chamber.
COUNTER FLOW KILN (CFK)
High Temperature Double track kiln.
600 m³ chamber - continuous drying.
120° C drying temperature.
Set up to dry 50mm PMSG.
100,000 m³ /pa.
RECONDITIONING
4 reconditioning chambers reconditioning at 95° C/95° C.
Boils a water bath to generate steam.
Equalises drier outer layers of timber to wetter core therefore relieving stress.
COOLING DOWN
Charge needs to cool down under weights which helps to relieve residual stress 3-4 hours after reconditioning
EQUILISATION
Storage in dry shed for 2-3 days minimum prior to going to planer.
Allows dry timber to equalise with surrounding atmosphere (EMC).
Equalibriam Moisture Content is dependant on how moisture laden the surrounding air is - ie higher in the winter, lower in the summer.