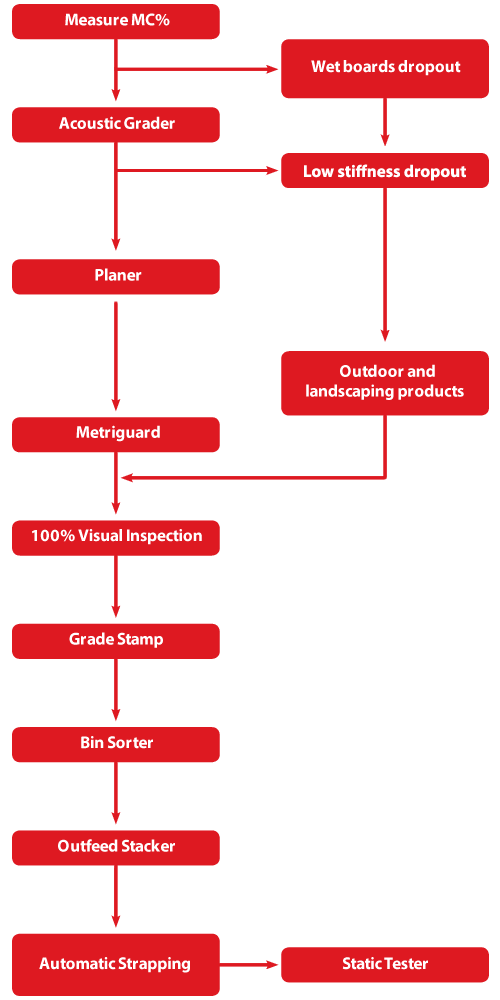 MOISTURE CONTENT
The Moisture Content of every board is checked in five places along its length. Boards with the MC between 10 - 16% are sent to the Planer. Boards that are too wet or over dry are dropped out.
ACOUSTIC GRADER
The A-Grader measures the average MoE (stiffness) of each board. Nonstructural boards are dropped out.
PLANER
The Planer gauges boards to size e.g. 90x45
METRIGUARD
The Metriguard measures the low point MoE (stiffness) of each board and marks the low points with a coloured spray. The board is then marked with a Tail Flash which is the overall grade based on the lowest spray mark.
VISUAL INSPECTION
The Metriguard does not grade knots, distortion or wane, so each board needs to be Visually Graded by the new Comact Grade Scanner to ensure a minimum strength and appearance is maintained. This process determines the final grade of the board.
Boards that originally dropped out also get Visually Graded to different products.
GRADE STAMP
If the board is SG it is Grade Stamped at 1000mm intervals along the face. This stamp shows the grade of the board, the verifying body, the way in which the timber has been manufactured and the producer.
BIN SORTER
Each board is sorted into bins by grade and length.
OUTFEED STACKER
The Outfeed Stacker stacks and automatically straps packets.
STATIC TESTER
A sample of boards from each run is tested for stiffness and strength at an arbitrary point along each board.